Executive Summary
This is the seventh installment in the Karma Sense Eating Plan (KSEP) series. If you need to get caught up, the full series of KSEP posts is here. The first post in the series is here.
In this post, we move onto the third of 5 mantras in the Eating component of KSEP. The mantra in question is Eat More Vegetables and Fruits. You may recall that the Karma Sense Eating Plan is designed to make you happy, healthy and oh yeah, save the world. While the other 4 mantras and the Sense component are targeted for your happiness and health, and the Karma component focuses on saving the world, mantra #3 Eat More Vegetables and Fruits, actually supports all of these goals.  We'll talk about why I make that claim, how much of this goodness to strive for, why I say "vegetables and fruits" instead of the more common "fruits and vegetables", and ideas to help you if you think vegetables are nasty.
I'll also explain why you probably think they're nasty. You'll be happy to know that this post won't talk much about fictional superheroes. However, it does discuss a real life superhero…
Your Mother
NOTE: Despite the low-brow content you've come to expect from the Karma Sense series, "Your mother" jokes will not be employed in this discussion. Even I have standards. Knock-knock jokes are still on the table, however.
I'm sure your mother is "super" in many ways. She also is a "hero". But a "superhero" is more than the sum of those two parts and when it comes to forming your sense of taste, your mom fits the bill.
Now, for the sake of establishing the scope of this discussion, by "taste" I specifically mean the act of tasting things you put in your mouth and not aesthetic taste. Because when it comes to how a mom can affect your aesthetic taste, sometimes it can be a real train wreck.
Who would not think they were in for a good time passing through THAT door?
In the genre of superheroes, your mom is like Professor X. If you're mature, you may be wondering who Professor X is (and if you're mature I'm wondering why you're still reading this but thank you for doing so). Professor X has the ability to read minds (just like Mom!) But his greatest strength is his role as mentor for the X-Men. Professor X has little control over those rapscallions but significant influence. Your mom has little control over your sense of taste, but she has signficant influence. Here's how it plays out:
At conception, specific genes determine how you perceive taste. Take cilantro for example. People love it or hate it. And research shows that your position on the subject is tied directly to a specific gene variation. Another example is that of the so-called "supertaster" (as opposed to normal tasters). Supertasters perceive often undesirable qualities in a broad range of food from gin to grapefruit to green tea. But this ability is not just limited to foods that start with the letter "g". Alas, poor supertasters, coffee and India Pale Ales are also on their list. Supertasting is thought to be linked to genetics but since it occurs more often in women, it turns out that mom is only partially involved in this one since dads determine a child's sex. As an aside, if I was given the choice of the heightening of one of my five senses for a superpower, I think the sense of taste might be the lamest.
During gestation, fetal nutrition is mostly passed from mom's blood to the fetus' blood. The sense of taste is not stimulated. But, according to a study, the fetus also has a tendency to swallow amniotic fluid. Amniotic fluid does appear to take on flavor characteristics of the mother's diet and this exposure can impact how we later perceive taste.
After a baby is born, there is more influence as breast milk also picks up the flavors of the mother's diet. If the mom chooses to feed with formula, then she is delegating that flavor responsibility to a multinational corporation, usually Abbot, Mead Johnson, or Nestle. (NOTE: There is nothing wrong with delegating the flavor responsibility to a multinational corporation. It is your choice. As adults, we do it to ourselves all the time. My modest proposal is that until your children are able to make their own food choices, you taste anything you did not make yourself, including baby formula. Babies of the world, I'm on your side.)
The final opportunity for influence happens when we start to develop our own free will. (Usually) Mom wants us to eat things because it's good for us. We push back because we think these foods taste like our gym socks. And your mom didn't have the Live Long Lead Long series of posts about "Readiness to Change" available to her so she could be more successful in her attempts. We all know how this played out, but it's probably best depicted in this clip from the documentary series, Leave it to Beaver.
What Theodore Cleaver and so many of the rest of us eventually learned is that brussel sprouts and many other vegetables are an acquired taste. There are a lot of valid reasons why people don't like to eat them. If you're one of those people, I'm going to spend some time in this post on why and how you can drive that to change.
If you already are a convert, I'll get into the specifics of Mantra #3 now so that you can read the rest of this post with a smug look on your face knowing how much cooler you are than vegetable haters (I figure if logic won't work, peer pressure is the next best tactic). So, without further ado, mantra #3…
Eat More Vegetables and Fruits
Your mission, which you should definitely accept, is to eat 7 to 10 servings of vegetables and fruits per day. In general, you should eat more vegetables than fruits. When I discuss the Special Considerations to which you've become accustomed, I'll get more specific.
Vegetables are preferred because of their lower calorie density (calories per gram is low) relative to nutrient density (vitamins, minerals, fiber and phytochemicals per gram are high). It is best to spread this consumption throughout the day by including them in every meal. This is not a requirement but try to eat enough by the end of the day. Unlike mantra #2, Eat Protein at Every Meal, this mantra carries the same serving target whether you're a man or woman. Here are guidelines on what is meant by "a serving":
One (1) cup green leafy vegetables
One (1) medium-sized piece of fruit
Half (½) cup chopped raw fruit, berries, or vegetables
When we discussed mantra #2, we dug into the controversy among experts around how much protein we should consume. However, nutrition experts universally agree that we should eat more vegetables and fruits. If there is controversy, it's usually between what we know we should do versus what we want to do. We prefer other foods to vegetables. When we dish out our plate, we don't leave much real estate for the vegetable to move in. When the plate is dished out for us, the vegetable is often what we leave on the plate when we're done. I understand that preference. I know that for the vegetable averse or even the vegetable ambivalent, building up to 10 servings per day seems insurmountable. If you'll bear with me, we'll work through that later in the post.
First we need to talk about a unique and important characteristic of mantra #3. You're reading the Karma Sense Eating Plan because you want to be healthier, happier and, oh yeah, save the world (you're not reading it, I assume, because it is a great piece of modern literature). The Karma Sense Eating Plan achieves these 3 goals by linking good deeds and gratitude (via the Karma and Sense components) to eating behaviors (via the Eating component). Adopting those Eating behaviors makes you healthier and contributes to making you happier but its other aspects of KSEP that actually help save the world. Only one of those 5 behaviors in the Eating component works towards being healthier, happier AND saving the world. That behavior is Eat More Vegetables and Fruits. What follows is a discussion on how I defend this claim and I do so with some sweet Kung Fu moves that include research, common sense, facts, allegory, emotion, and…mom.
Eating More Vegetables and Fruits Makes You Healthy
Mom is right. Those vegetables and fruits are good for you. It's been shown in study after study. They fight disease (studies). They manage your weight (study). They make you look good (study). It is known, Khaleesi. I will assert this no further.
<Kung Fu Swish sound effect>
Eating More Vegetables and Fruits Makes You Happy
I'll lean on my usual crutch, peer-reviewed research, to back this claim. While it's true that the salty-sweet-fatty sensation of bacon-ranch-flavored-chocolate-covered-cheese-puffs can give you a temporary boost in mood, the crash is usually just as fast. That makes you sad and crave them even more. But this study demonstrates that consuming a minimum of 7 servings of vegetables and fruits give that same kick and that it lasts for a more sustained period.
There are a number of reasons why this is the case. First of all, many of the ingredients in unhealthy foods that enhance mood are also in vegetables and fruits. So it's a wash. But vegetables and fruits contain other naturally occurring nutrients such as fiber, vitamins, minerals, and phytochemicals (also known as "other goodies") that regulate and slow down the absorption of those ingredients. Furthermore, the fiber, vitamins, minerals and other goodies (also known as "phytochemicals") contain mood-enhancing properties of their own. Fiber leads to satiation. Folic acid, a B vitamin found in abundance in broccoli and other vegetables has a direct link to positive moods and its deficiency is directly correlated to depression (study). Magnesium is a mineral found in dark green leafy vegetables like spinach. Magnesium also has been found to prevent depression and anxiety (study!). And polyphenols, a family of phyto-goodies (also known as "other chemicals"), fight depression and Alzheimer's Disease (guess what!).
<Kung Fu Swish-Swish sound effect>
Eating More Vegetables and Fruits Saves the World
I evoked Mom to get us through that health claim. I leaned on research to get us through that happy claim. To make my case that Eating More Vegetables and Fruits helps save the world, I'll depend on common sense, facts, allegory and some emotion. But first…
Housekeeping
For the purposes of this discussion, the point that I assert is that plant sources of nutrition (e.g. veggies, fruits, grains, legumes, nuts) are better for the environment and for other living creatures than are animal sources. I make no value judgment as to whether meat consumption is good or bad. I do however encourage you to eat more vegetables and fruit in exchange for and at the expense of animal-based nutrition.
One of the reasons why the Karma Sense Eating Plan guides you in this direction is because it is a better choice for you, your loved ones, the population at large, other sentient beings, and the planet. Since different people have different priorities when it comes to "saving the world", we'll explore each of these in the hopes that some combination of these matches your priorities.
Also keep in mind that while the world of plant-based food is not limited to vegetables and fruits, the more carbolicious and fat-tastic sources are discussed as part of mantras #4 and #5 as well as other random places in the KSEP series because sometimes I simply couldn't keep them under control. They're mischievous in that way.
Okay, now we can discuss why plants are better for…
You
See Healthy and Happy above. If you are the center of your world and you are happy and healthy, the "save the world" part is done.
Your Loved Ones
I'm in the mood for a table. Aren't you?

The Population At Large
I'd prefer to bring in more hard facts at this point but I'm going to stick with the Happy and Healthy theme as the basis for this claim. Unfortunately, relying on research to demonstrate that happiness helps improve the world is a losing battle. It's a mess. The definition of happiness is so subjective, that sponsors of research use the definition that best suits their own purpose. Socialists measure it their way. Libertarians measure it their way. Moderates measure it both ways and average it out. So I'll just define happiness the same way Supreme Court Justice Potter Stewart defined hard-core pornography, "I know it when I see it." And another thing I know is that when someone is happy, it's infectious. Happiness breeds more happiness. If you're happy, the people around you get happier and so on. By the time you get 6 degrees away, even Kevin Bacon is happy. That's good for the population at large.
Meanwhile, as it relates to health, there are too many studies to rely on. While they may disagree on measures, methods and next steps, they all agree that healthy populations live longer (duh), are more productive, and are in a position to create less global instability. No one is rooting to lead the world in chronic disease.
I hope we can agree that a happy and healthy population stands a better chance of saving the world than a bunch of disease ridden grumpy-pants.
Other Sentient Beings
You don't have to be a vegetarian to believe that animals that become our food would be better off if we ate less of them. There are some who attempt to undermine this position but their logic is usually pretty weak. If you can't think of any of these lame arguments on your own, I'm not going to help you.
The Planet
I could focus solely on the issue of global warming or climate change to make this point. But everyone knows that:
"So-called "global warming" is just a secret ploy by wacko tree-huggers to make America energy independent, clean our air and water, improve the fuel efficiency of our vehicles, kick-start 21st-century industries, and make our cities safer and more livable. Don't let them get away with it!" – Chip Giller Founder of Grist.org,
But seriously, it is irrelevant to this conversation whether changes in our climate and atmosphere are a force of nature or a force of knuckleheads.
I'll explain why by telling you something about my younger son. and his very own superpower. Even when he was very young, he could get in debates with people of any age, use logic and facts to convince them he was right, and then as soon as they came to his side, he'd switch. He'd take the other side. He'd reassemble the facts and logic that his "opponent" used and shake their confidence in their thought process. The same technique could easily be done with the debate of which type of food is more humane and more sustainable. Don't believe me? Try me! I've been trained by the best.
In the end the discussion is one of values. And a debate over values is as close to a religious debate as you can get without it actually being a religious debate. Sometimes it actually is one and the same. Has a religious debate ever been concluded with a nice clean resolution other than the occasional agree-to-disagree?
Here are the irrefutable facts. Plants are lower on the food chain. The lower on the food chain the less energy and resources they consume. Plants can be grown much more closely to the consumer and this also conserves energy. I can grow spinach in my backyard. My neighbors may have problems if I raised cows. In general, plants require much less processing and packaging than animals. The apples and bananas that pass through my door look pretty much like they did in their natural setting. The chicken usually is separated from their feathers, heads, and feet by the time it gets home. It's also wrapped in cellophane and other petroleum based products that never decay. Finally, plants pollute less than animals, whether it's gas in the air or waste on the ground, animals have a bigger (literal and figurative) footprint.
For people who DO believe there is such a thing as greenhouse gasses, this chart by the Environmental Working Group illustrates how consuming more plants is better for the planet: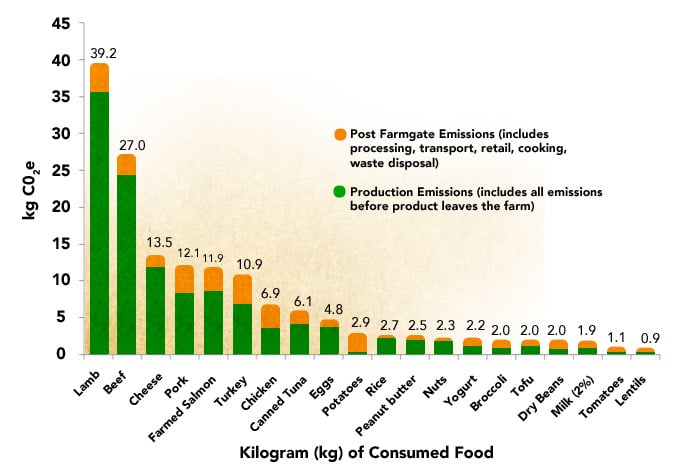 A picture is worth a 1,000 words…
Unless you're my younger son. He'd remind you that while the chart is accurate, it's misleading. You have to eat a lot of broccoli to get the same amount of energy you get from a slice of ham. If you were on a deserted island with one food and the choice was broccoli or ham, you'd survive a lot longer with the cured meat. In fact, if you substitute the ham with Ben and Jerry's Chubby Hubby ice cream, you'd still live longer than with broccoli. (Note To Self: Remember to volunteer for the desert island Chubby Hubby experiment).
So, the table is misleading. But, if you sort the data by calorie density, pork, chicken and fish start to mingle among the plant-based foods in emission output. Lamb and beef are still way far to the left (Leftist sheep!). Then, there is the whole kerfuffle with invasive species like deer and wild boar. Leaving their populations to their own devices causes more damage to the environment than eating them (in moderation). Now you see what it was like living around that kid.
In the end, we learn that data like what's in that chart tries to convert the amorphous intertwined force of all living things (←Blatant Star Wars reference), into discrete pieces of information. That's not how real life works. So you have to depend on things like common sense in those cases where data just can't serve you. But if using facts, logic, and common sense doesn't convince you that to Eat More Vegetables and Plants makes you healthy, happy, and, oh yeah, saves the world, then at least listen to your mom. She only wants what's best and just like Professor X, she believes you CAN save the world.
<Kung Fu Swish-Swish-Swish sound effect>
What To Do Next
Now that you've been strong-armed to comply, here is the best way to proceed. I'm going to ask you to make a list so choose whatever list-making material that you like. Pen and paper. iThingamabob. Smoke signals. Whatever.
Make a list of all the vegetables and fruits you like.
Regardless of how long or short the list is, including if it's empty, add berries, broccoli, dark leafy greens, and one or more other cruciferous vegetables (here's some options). These foods are extremely nutrient dense.
Place a #4, for mantra #4, next to all fruits and all starchy vegetables. If you don't know whether a vegetable is starchy or not, check out this list. Specific fruits that are not fruit-like such as tomatoes can stay.
Anything that doesn't have a #4 next to it is fair game to qualify for conforming to mantra #3.
For now, we are reserving fruits and starchy vegetables for a later discussion. These foods have relatively high carbohydrate content. Many people on the Karma Sense Eating Plan want to lose weight and need to watch carbs. That's why I've been saying "Vegetables and Fruits" and not "Fruits and Vegetables" like any rational human being. It's my way of asking that you put your emphasis on vegetables over fruits. When I discuss special considerations at the end of this post, I'll give you enough information so you know what to do. And, of course, you'll get more excruciating detail and other shenanigans in the next installment of the series. As a not-so-wise boss of mine once said, "patience comes to those who wait."
But What If I Don't Like What Remains?
Here are some thoughts on how to deal with this.
Don't try to reach 7-10 servings immediately. Build up to it.
You've heard the expression "an acquired taste"? (You may have applied it to this blog or you're hoping it may eventually be true about this blog.)  It is a legitimate phenomenon recognized by flavor scientists. If you don't think flavor science exists, explain why anyone would ever eat anything that looks like a Hostess Sno-Ball.

The theory on acquired tastes is that there is some aspect of the food that you deem unusual and the only way to get over that is through more exposure. So don't dip your toe in the water. Jump in all at once. You'll get used to it more quickly.
You've heard the expression "an unacquired taste"? Me neither. But we've both heard it now. It's possible to learn to not like something that you really should like because you had a bad experience when you consumed it ("chicken roll sandwiches" did it for me) or more specifically due to consistently bad preparation. For example, our parents had a lot on their plates. The last thing they needed to do was to clean, chop, season and prepare your vegetables. Especially when there were such convenient versions available frozen or in cans. Convenient? Yes. Tasty? Usually not. And so we unacquired any chance of liking vegetables. These days there are more convenient versions of fresh vegetables. They're already washed and chopped. And there are a million ways to sneak them into your diet, such as…
If you've never tried them raw, try them raw.
If you've never tried them cooked, try them cooked.
Chop them up fine and put them in your pasta sauce. Summer squash can even be used in place of pasta for a low-carb treat. This recipe is for some high highfalutin sauce, but there's no reason why you can't use a hearty spaghetti sauce. A powerfully flavored sauce works wonders for hiding veggies.
Cook them in an omelet.
Salad.
You can make mashed "potatoes", rice, and even pizza crust out of cauliflower. Google any of them.
My personal favorite. Preheat the oven to 400° F (200° C; 480° K). Chop any cruciferous vegetable into bite size pieces. If kale, just tear it up. Coat the vegetable with olive oil and sprinkle with kosher salt. Put it in the oven and check on it every 10 minutes or so. When it has a nice char, it's ready. This will take anywhere from 10 to 40 minutes depending on the vegetable and the size of the chop. This process removes much of the bitterness people don't like and adds a crunchy, salty, fatty mouth feel that is akin to eating chips. Don't give up on this one. If you didn't like the way it turned out with one vegetable, try another. Cauliflower and Broccoli look a little alike but their flavor when roasted is completely different. Cauliflower gets kind of sweet. Broccoli gets more crispy/mild. Brussel sprouts? I am the first to admit, there are few foods as heinous as an improperly prepared brussel sprout. Roasted brussel sprouts? Wow!
Eat asparagus. If you're childish like I am, trust me on this one. And if this idea appeals to you, you should read Put It In Your Act by my pal Larry Osman. You're in for a good time <heh heh>.
Google for more ideas or just click here if you want to be lazy about it.
Spread them on your plate and hope no one notices. Or try feeding them to the dog.
If all else fails, consider taking a greens supplement. The benefits are just too great to abandon.
Special Considerations
As with all mantras, this section explores how people with different goals should adjust the mantra of Eat More Vegetables and Fruits.
Lose Weight
Implement this mantra as is. Avoid starchy vegetables and fruits. Don't worry. You can be Karma Sensible, lose weight, and eat these, ahem, forbidden fruits. But do so in accordance with mantra #4 to maximize weight loss.
Maintain Weight but Eat Healthier
Implement this mantra as is. Feel free to add the items on your list with the #4 next to them. Aim for a ratio of 5 servings of mantra #3 veggies to 2 servings of mantra #4s.
Gain Weight in the Form of Muscle
Implement this mantra as is. It is assumed that if you're trying to gain muscle you also have a significant exercise routine. If so, feel free to add #4s to your repertoire (which I believe is French for "stuff") but aim for less #4s than non-#4s, just because you like a challenge. (No pain, no gain, Bro!)
Key Points
Eat 7-10 servings of vegetables and fruits per day.
A serving consists of:

One (1) cup green leafy vegetables
One (1) medium-sized piece of fruit
Half (½) cup chopped raw fruit, berries, or vegetables

Eating more plants is good Karma. It helps to save the world.
Aim to consume mostly cruciferous vegetables and dark leafy greens.
Starchy vegetables and fruits should be consumed sparingly, but this varies depending on your goals.
If you are one of the many people who don't like vegetables, there are many strategies for building a tolerance and even learning to love them.